Fall Conference 2017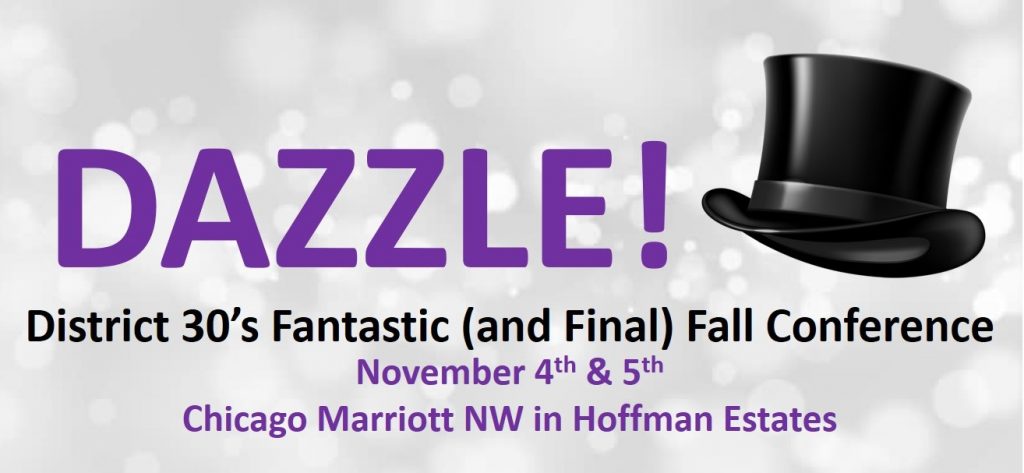 District 30's Fall Conference is set and we're ready to "DAZZLE" our members with an amazing experience. Our theme, "DAZZLE! District 30's Fantastic (and Final) Fall Conference", is sure to please! This is the LAST Fall Conference District 30 will have and we want YOU to be a part of this historic event! REGISTER TODAY at http://bit.ly/2xOt6Yk and reserve your seat at the best conference District 30 has ever experienced!
WHEN
The District 30 Fall Conference will be held on Saturday, November 4th starting at 6:00am and will continue through Sunday, November 5th until 1:00pm
WHERE
The conference will be held at the luxurious Chicago Marriott Northwest Hotel in Hoffman Estates located at 4800 Hoffman Blvd in Hoffman Estates, IL.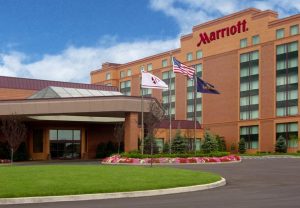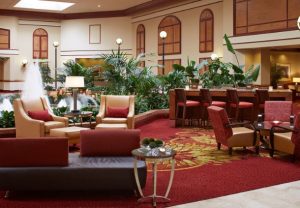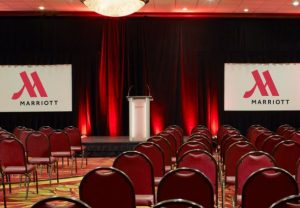 A special room rate of $89/ night + tax is available for both single and double occupancy. Discounted room rates are available until October 13th so don't delay! Rooms may sell out so plan to book early (these rates are available for both Friday and Saturday Night).
To make a reservation, call 847-645-9500 and ask for the "TOASTMASTERS DISTRICT 30" group rate. Alternatively, click the following link to book online http://bit.ly/2syHGlo
KEYNOTE SPEAKER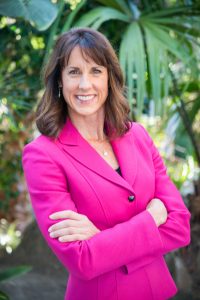 Barbara Khozam AS is an internationally recognized speaker and trainer having delivered over 1100 presentations to 36,000 people in 10 countries on Customer Service, Leadership, and Communication. Her audiences include employees of Xerox, Symantec, Verizon, and the FBI to name a few. Known for her "High Energy/High Impact" delivery, outrageous wit, and ability to tackle real issues posed by her audience, she has been the recipient of dozens of  awards for Sales Achievement & Outstanding Trainer Ratings.
In 2014 Barbara was the 14th woman in the world to be honored by Toastmasters International with their elite Accredited Speaker designation for "outstanding platform professional
speaking".  Besides being an acclaimed author, Barbara delivered more than 1100 presentations to audiences of all sizes, sharing strategies for customer service, leadership, motivation, and communication.
MEALS
An incredible lunch buffet and delicious dinner option is available. Individuals who purchase a lunch or dinner will have a perfect view of the Keynote Speaker, Distinguished Club Ceremony and Humorous Speech Contest! Don't miss out on this fantastic opportunity to eat great food at an outstanding price!
Lunch Buffet = $20
Dinner = $35
VOLUNTEER
Be a friendly face and officially offer a helping hand during the Fall Conference. We're looking for volunteers to help out at various events and throughout the conference. If interested, visit https://goo.gl/forms/HtZ99jvvIs3Dl2lz2 to sign-up!
REGISTRATION (ENDS OCTOBER 27th)
Club Registration = $130
Individual Registration = $35
Individual Registration + Lunch + Dinner (BEST BUY) = $75
DON'T DELAY, REGISTER TODAY!!!
Register at http://bit.ly/2xOt6Yk and revel in District 30's Fantastic (and Final) Fall Conference!